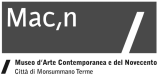 Museum of Contemporary and 20th Century Art
The Mac,n Museum of Contemporary and 20th Century Art is housed in the majestic Villa Renatico Martini. Built in 1887 for Ferdinando Martini in Renatico, to a design by architect Cesare Spighi, the elegant building is surrounded by a large park populated by centuries-old trees. In the 1980s, the municipal administration purchased and restored the villa, returning it to the community of Monsummano Terme. Since 1988, Villa Renatico Martini has become the venue for cultural events of various kinds. In the year 2000 came the turning point, with the establishment of the Museum of Contemporary and 20th-century Art. A museum housing a substantial nucleus of paintings, graphics and sculpture. The Civic Collection "Il Renatico", formed over the years thanks to donations from artists and people close to them, is an important testimony to Tuscan artistic fervour in the 20th and 21st centuries. Local and regional artists are also joined by many contemporary works by protagonists of the national and international scene. Among the masters in the collection are Pietro Annigoni, Vinicio Berti, Ferdinando Chevrier, Gustavo Giulietti, Ketty La Rocca, Eugenio Miccini, Bruno Rosai and Jorio Vivarelli. A rich collection of graphic works testifies to the museum's attention to this very special and complex art, which has been disseminated to the public thanks to high-level events such as the editions of the Biennial Prize for Engraving City of Monsummano Terme.
The Museum of Contemporary and 20th Century Art welcomes its visitors in an elegant entrance hall with a coffered ceiling. On either side of the entrance, the museum presents part of the "Il Renatico" Collection in the Ceramics Room and in the exhibition space of the large multi-purpose hall. Climbing the monumental internal staircase, one arrives at the upper floor used for temporary exhibitions. Finally, on the top floor is the workshop housing the intaglio press. A location that Villa Renatico Martini not only exhibits works of art, but also allows, in its indoor and outdoor spaces, the organisation of conferences and study meetings, theatrical performances and chamber music concerts. The park's Arena, dedicated from 2019 to the brilliant White Duke David Bowie, hosts cinema and open-air theatre during the summer season.






Mail
museoarte@comune.monsummano-terme.pt.it
Address
via Gragnano 349
51015 MONSUMMANO TERME PT
Italy
Museum of Contemporary and 20th Century Art